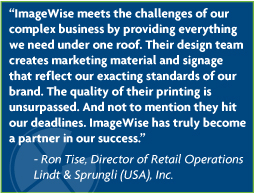 Brilliant design begins with great communication.
We believe that truly listening to our clients and developing an open atmosphere where they can share their values, ideas and business goals yields the most creative, strategically sound designs. We'll work with you to refine and simplify your market message; then clearly and creatively bring that message to life—while keeping your budget in mind.
Our design team blends the capabilities and talent of a large firm with the personal attention of a small studio—the best of both worlds for our clients. And keeping your design and printing under one roof enables greater quality control, reduces your costs and ensures the product comes out exactly as expected. In the end, you're delighted with what you hold in your hand...and the seamless process it took to make it happen.